The Waterfront
Glen Brook's private lake is fed by springs and brooks. It is a beautiful spot for swimming, canoeing, paddle-boarding & kayaking, an overnight at the lean-to or tipi, an early evening dip, or hanging out with friends on the beach on a lazy Sunday afternoon. A full swimming instruction program is offered. Campers also learn basic canoeing skills and safety, and have access to canoes, kayaks, paddleboards, and paddle boats.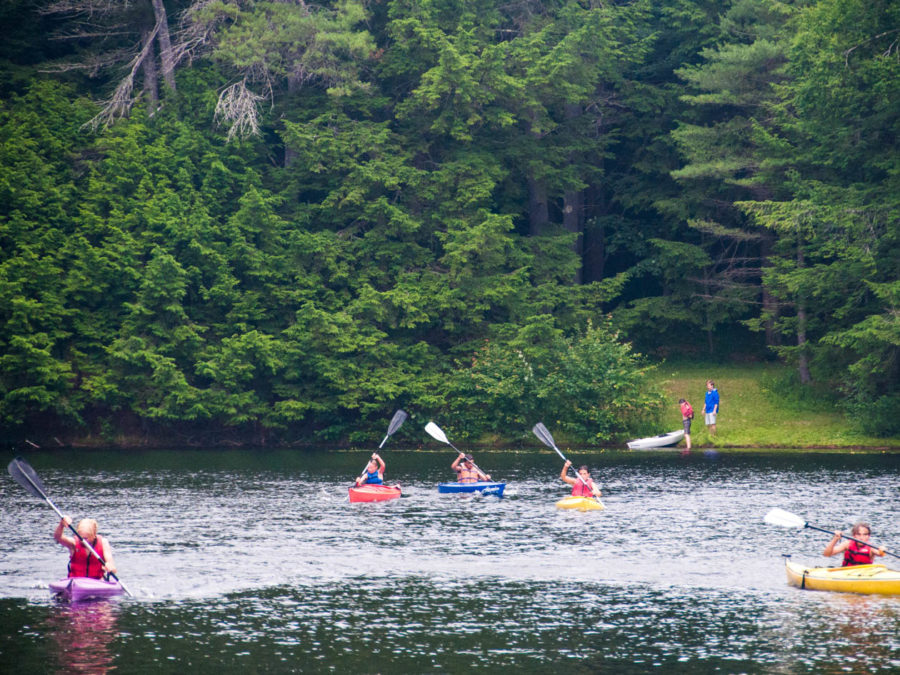 Arts & Crafts
Glen Brook has a long tradition of working in the arts. While our emphasis is on process rather than final form, we do strive for excellence in our work. Among the favorites are: painting and drawing, clay and ceramics, batik, puppets, paper making, jewelry, tie-dyeing, spinning, weaving, felting, nature sculpture, and photography. We also have a fine woodshop where campers build everything from bird feeders to picnic tables.
Music, Drama, and Dance
Singing after dinner is many campers' favorite daily ritual, and singing around the campfire is a special treat. Preparing and sharing a variety of serious and silly musicals and dramatic performances creates community and nurtures us. We have a weekly folk dance and other opportunities to move to music and rhythm. Performance classes teach campers to project their voices, embody different characters, and present themselves confidently.
Games & Sports
Glen Brook emphasizes enjoyment and cooperation in our programs. While we teach strong skills and have tournaments and some serious games, competition, other than with oneself, is secondary. Tennis, archery, softball, soccer, volleyball, and basketball are all popular, but we even take capture the flag, kick-the-can, and silly relays seriously. We like new games and thinking games. This is not an all-star sports clinic, but we love to play hard and have fun.
Nature Immersion & Farming
Campers get to know our land as they explore the woods with a nature counselor– building fires and forts, playing games, learning about plants and animals, and exploring the streams. Each camper also works on our farm to weed and harvest produce, care for our animals, and bring food to the kitchen. Older campers have the opportunity to learn how to use axes and saws to cut wood and manage the forest.
Wilderness Trips
Each week the whole camp hikes up a mountain together. Most groups take a 2- or 3-day camping trip which includes canoeing, hiking and/or backpacking. Sleep-outs at the lake or the ridge cabin are complete with cookouts and stories.
Ropes Course & Team Building
Our low and high ropes courses are for older campers. They combine a high level of excitement with real opportunities for teamwork and personal growth.
Special Events
We always like to find an excuse to have more fun. Some of our favorites include: 4th of July Celebration, Counselor Hunt, Trivia Night, Banquet, The Glen Brook Games and Music Night. Counselors might also offer rocketry, dance, yoga, aerobics, guitar, drumming, cooking, and astronomy with access to our precision 8″ and 12″ reflector telescopes.